When it comes to acquiring high-quality backlinks, SEOs are always looking for new and innovative ways to land killer links that their competitors can't easily replicate. Event link building is a unique way to do exactly that.
Building event links is relatively easy. But it can be difficult for beginners, as it requires an understanding of SEO and event planning in some cases. In this article, we will look at event link building and how to get started in six easy steps.
Event link building is all about getting links to your website by participating in local, national, or global events. These links can be obtained in two ways, either by hosting an event or sponsoring one.
As an event host, you can obtain links from third-party event sites like Eventbrite, blogs, and press. These sites are designed to feature both in-person and online global events like conferences and seminars.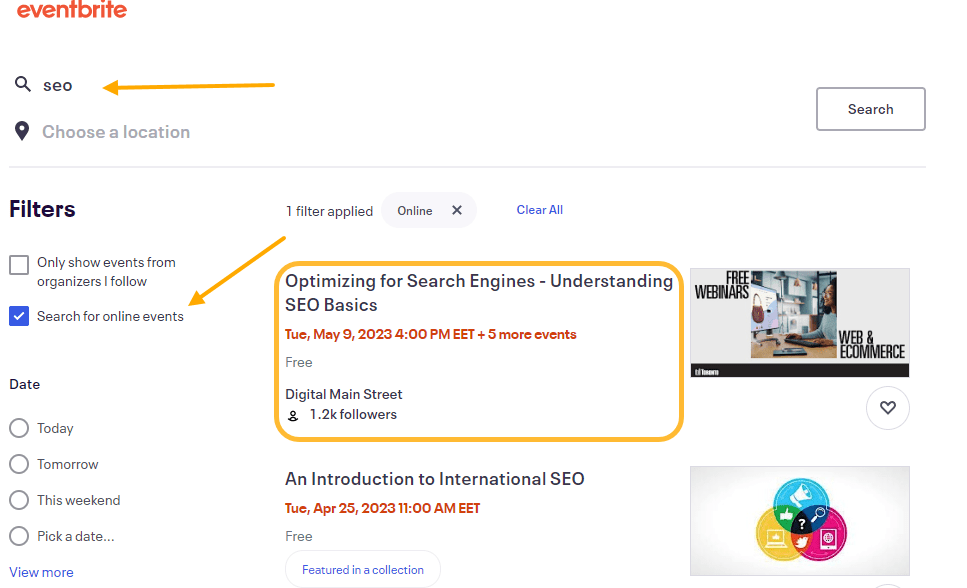 By sponsoring events, you can earn a link to your website from the event site itself. 
Not only are event links earned, making them "Google-approved," but they are also highly relevant (topically but also geographically if you're the event host).
Building event links is a powerful strategy for improving search engine rankings, diversifying your backlink profile, and promoting brand awareness.
Event link building allows you to build super high-quality links from not only the biggest names in your industry but also editorial links from local and national press. 
This will improve your website's perceived authority (with both competitors and Google). Also, event links offer diversity more than traditional link building techniques like guest blogging.
You can also boost your local SEO game by hosting or sponsoring geographically relevant events. Acquiring links from local companies, venues, and press can significantly improve your rankings for local queries.
Hosting an event is one of the best link building strategies. However, it takes a lot of preparation, planning, time and, of course, money.
A much easier (but just as powerful) way to build event links is through event sponsorships.
Sponsoring different types of events depends on your industry. The following are some examples of events that may work for you:
Concerts
Associations or clubs
Event meetups
Conferences
Seminars and workshops
Training seminars
Sporting events
Various academic events and lectures
Of course, to get started, you will need to both find and vet potential events to see if they are worth investing your time and money into. There are two things you can do to find great events to sponsor.
First, you can start by focusing on industry-specific events. There's no doubt you are already familiar with several of the most popular events in your industry. Some good examples for our industry are brightonSEO and SaaStr. 
Most events will have a page dedicated to sponsors where you can register to sponsor an upcoming event. Here's an example from the Engage conference (formally SearchFest).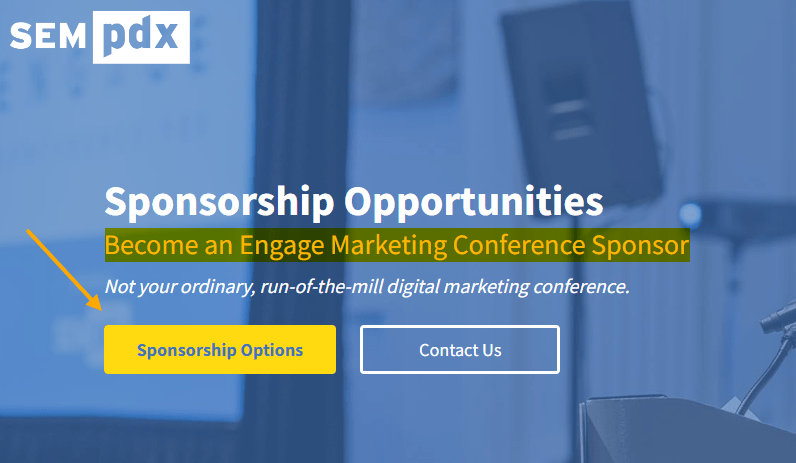 As you most likely already have an understanding of the quality and expected attendance of these events, it cuts down on the time needed to find and vet them. 
However, do note that sticking only to popular events in your industry will limit the number of high-quality event links you can acquire for your website.
So you'll want to start looking to sponsor events that may be outside the scope of your industry. These may fall into some of the categories listed above (such as concerts or sporting events) that are happening locally. 
The easiest way to find these is to use Google with search operators. For example, to find different events happening in your area, you can use (events AND football club) Newcastle Upon Tyne.
With Ahrefs' SEO Toolbar, you can see metrics for each resulting website right in Google search, including the Domain Rating, referring domains, and organic traffic. This can help you to quickly vet potential websites and see which are worth looking into further.

Remember, the goal is to build links from quality events. Don't look to sponsor just anything and everything. A popular event will have more people linking to it, increasing link equity. Look for events that are already popular with:
The media.
Influencers and bloggers.
Your target audiences/customers.
Other industry leaders.
One quick pro tip: be sure to add a "sponsored events" page to your own website. 
This should list the events you sponsor. Do include a section below informing visitors of the types of events you are willing to sponsor and contact details for event organizers looking for sponsorship.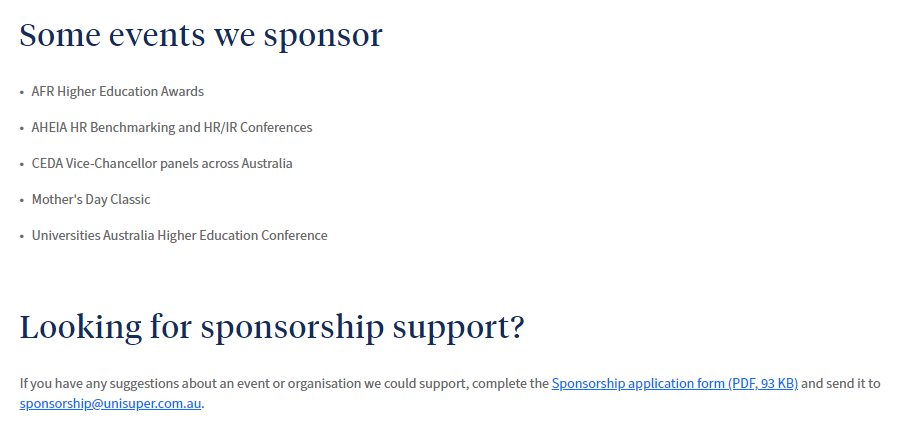 This is a great way to bring you relevant events and save time researching further events. 
Although sponsoring events takes the hassle out of planning and running an event, hosting events is a great way to get your name out in your industry. 
It builds brand awareness (and links) and can also help relay your values and mission to your audience. For example, by hosting local charity events, you can show that your company is philanthropic and cares about the community. 
You don't have to be a huge brand with unlimited funding to host events. Even small businesses and "solopreneurs" can host small local events to earn awesome links from local companies and the press. 
Here are some tips on how you can go the extra mile to promote your events to ensure they acquire as many high-quality links as possible.
1. List events on your website
Create an events page on your website dedicated to any upcoming events you are hosting.
Be sure to list all the events with all the relevant information, including who or where to get in touch for tickets. Getting the searcher to register is the next step after getting the initial click from the SERP. 
Your event page should include the following key details:
Title of the event
Description of the topics covered
Venue of the event
Full event schedule
List of prominent figures such as speakers for conferences or judges for competitions
Provide attendees with a compelling reason to attend
Proof from social media
Effective call to action
2. Implement event schema on all listings
When searching for "events near me," Google search will display the relevant results. Some rich results in the SERPs show relevant information, including the event's location, date, and time. 

By adding code to your event page, you can organize your webpage content and add specific details about your event using Google's event structured data markup. 
Not only does implementing event schema allow your events to be eligible for display on Google's event experience, but it also increases the chance of your event being discovered.
In fact, Google states that through event structured data, "Eventbrite saw a 100% increase in the typical year-over-year growth of traffic from Google Search."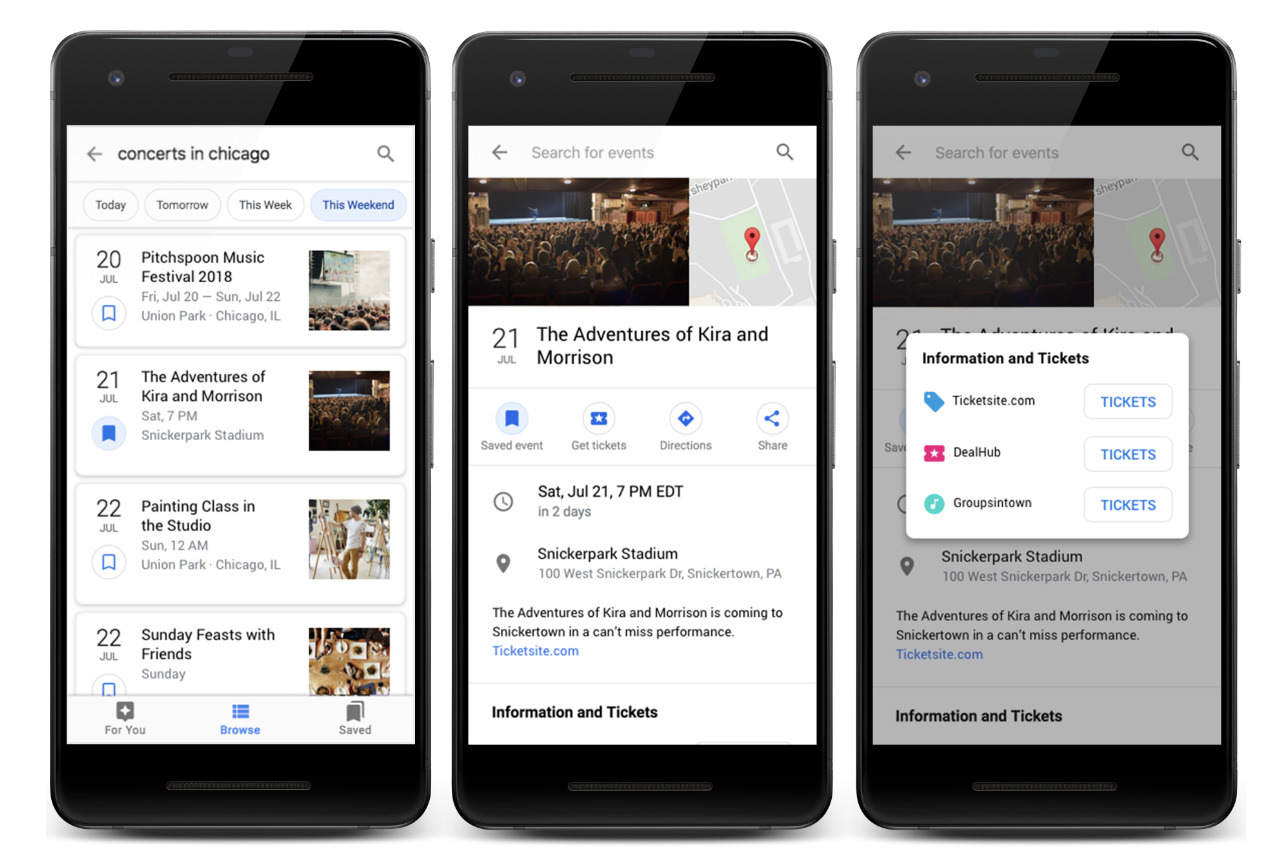 Your events page should include an event schedule that can be shown in Google's event experience to drive registration.
There are a number of ways to implement structured data. If you're using WordPress as your CMS, the Event Schema WordPress plugin is the quickest and easiest way to add event schema to your site.
If you're not using WordPress, you can also use Google's Data Highlighter to mark up your pages.
3. Add listings to third-party event sites
Most event organizers only list their events on bigger platforms like Eventbrite. Needless to say, this is not the only event website out there. 
Sites like brownpapertickets.com, petaluma360.com, punchbowl.com, and more all host event listings.
Note that most third-party sites already have schema built into their listings, so you don't need to worry about it for these sites.
4. Craft an effective outreach strategy
Once your events are listed and ready to be promoted, you need to develop an effective outreach strategy. 
Find bloggers, websites, and social media influencers who may be interested in your event. 
You can use Ahrefs' Content Explorer to find and reach out to websites and authors who are likely to promote your event. 
For example, to identify people writing about SEO events, you can enter something like "SEO" AND ("conferences" OR "events"). Use the "In title" path to only show the most relevant pages.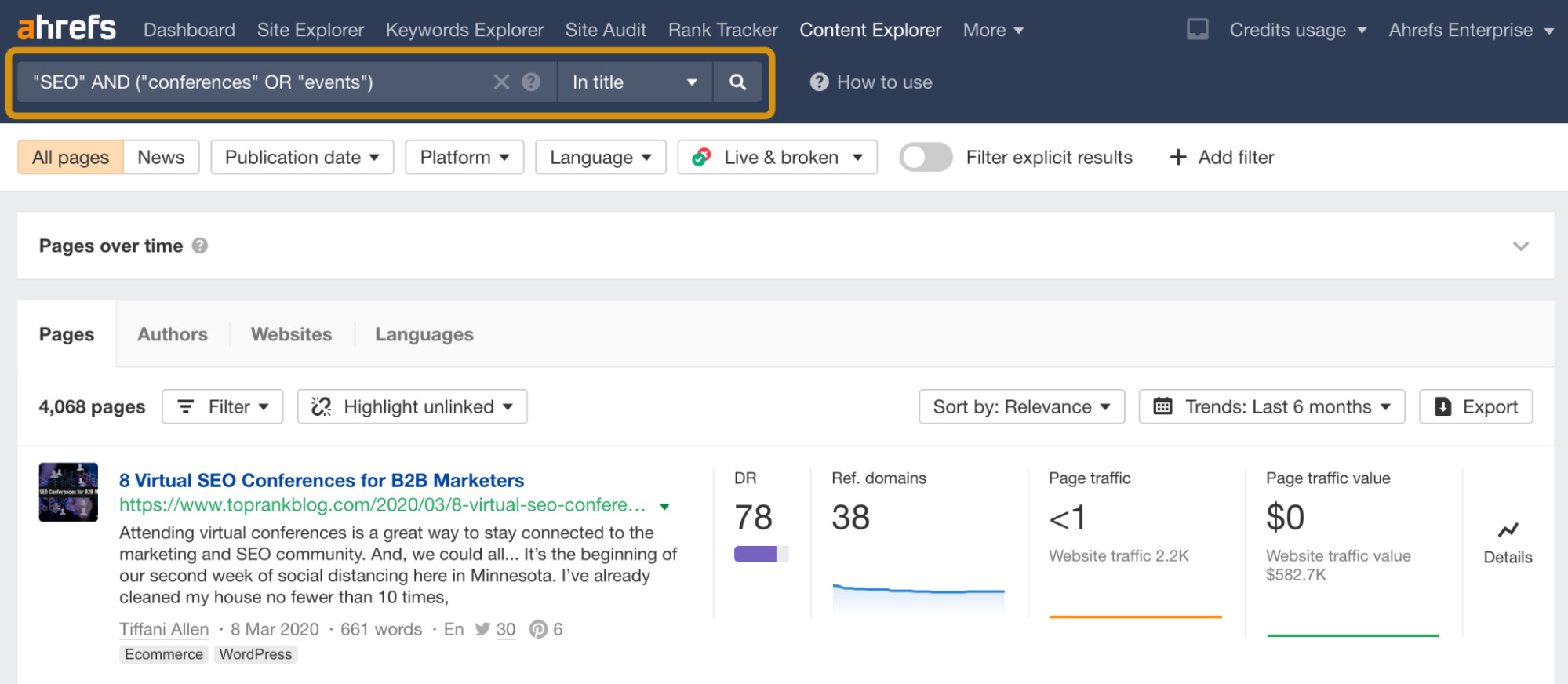 Toggle between "authors" and "websites" to find relevant people to reach out to.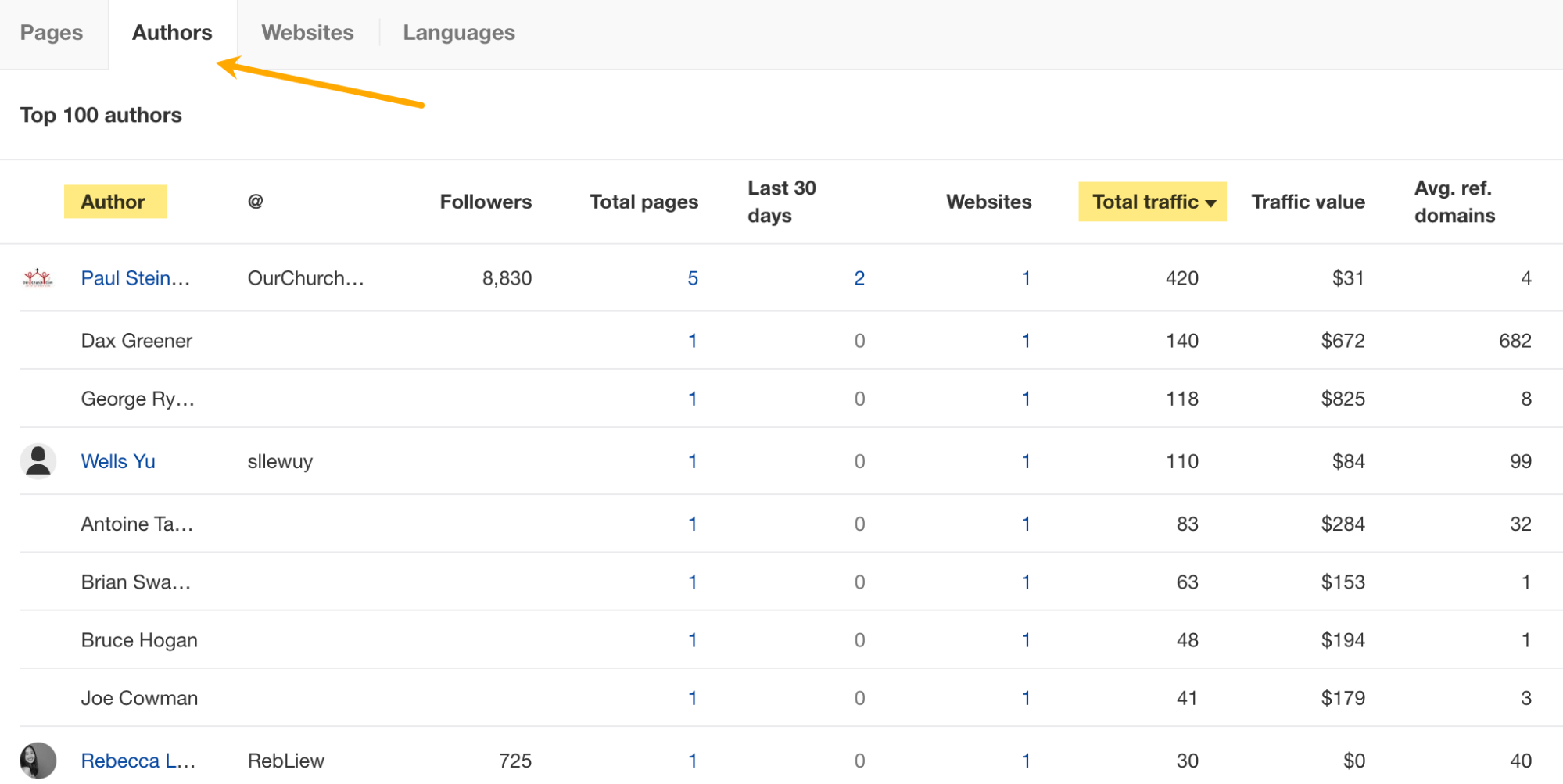 Tell people why they should share your event with a concise and clear personalized message. Links to event pages should be descriptive, and you should also explain why their readers will benefit from your event. 
5. Promote your event further
You can take event promotion one step further in several ways. Not only can you utilize digital PR techniques, but you can also use social media to create more brand awareness and drive additional traffic to your event listings. These include:
Creating Facebook events.
Adding events' links to your social profiles.
Promoting your events through your email list.
All of these methods can successfully build some buzz around your event. 
A teaser campaign is another great method of building buzz. This means adding a secondary event page on your website that can attract more links.
Using a "coming soon" landing page and social media graphics is one of the easiest and most popular ways to start a teaser campaign. Don't tell too much, but point out the exciting things that will happen during the event.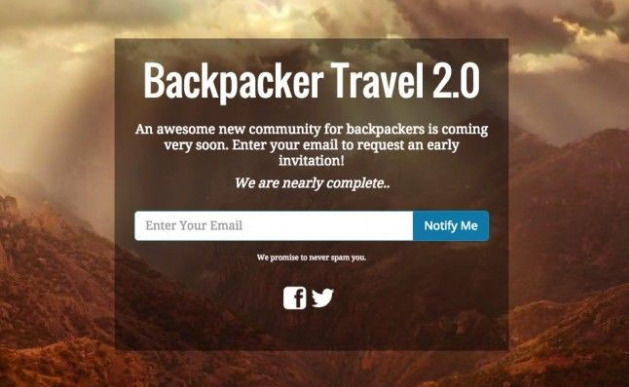 6. Use paid promotions close to the event
In the days leading up to your event, social media can work wonders to build buzz since many users check their newsfeeds daily. Getting more exposure for your event can be achieved through paid social media posts. 
Although many attendees will #doitforthegram during the event, research from Buffer shows that "there were nearly as many posts leading up to an event as there were during the event itself 40% and 42% of total posts, respectively)."
This means just as many people will be keen to share the buzz around your event before it happens and when it actually happens. By building anticipation for your event in the days leading up to it, you can promote additional, last-minute ticket sales.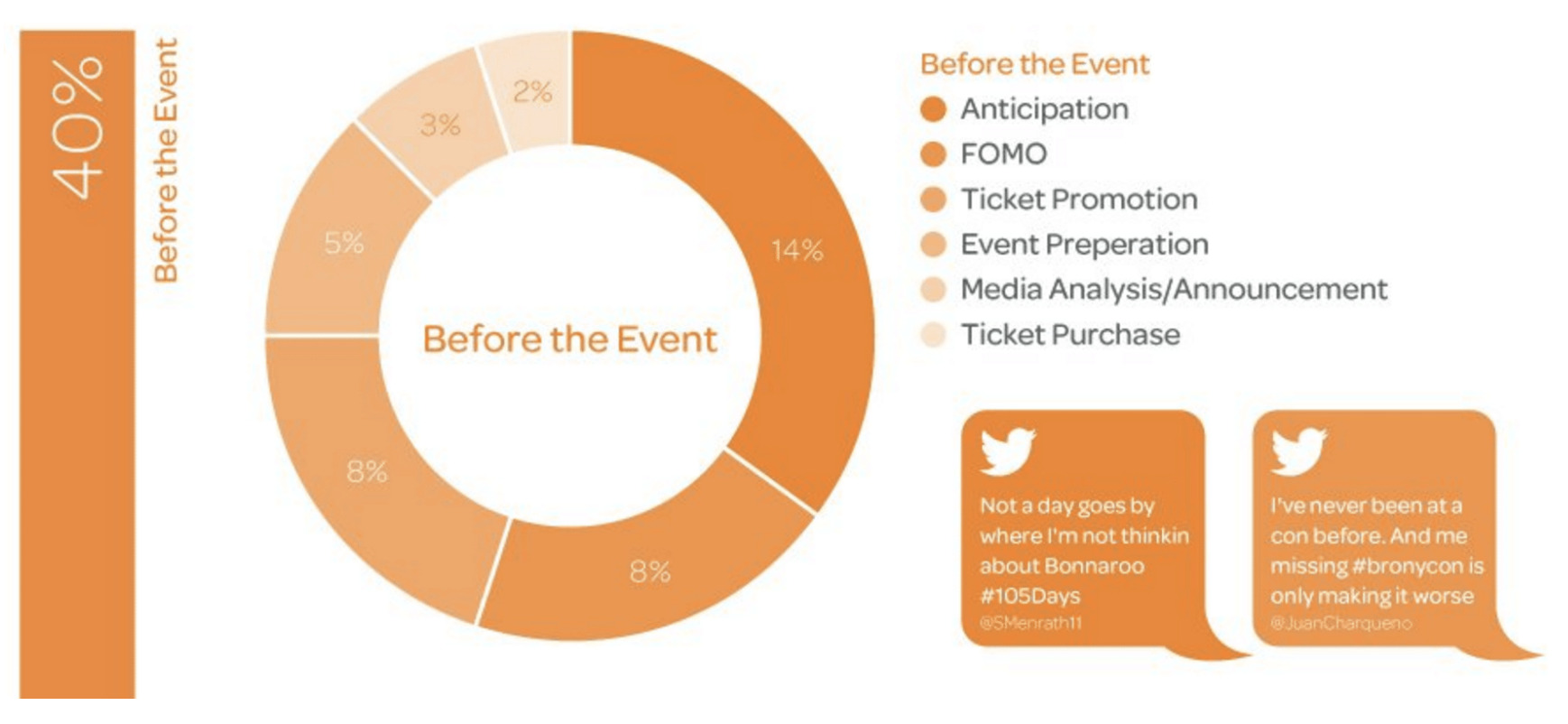 This number can be even higher by boosting organic social media buzz with paid ads and posts, resulting in more likes, shares, retweets, and links.
Final thoughts
Hosting and sponsoring local, national, and even global events is a relatively easy way to build high-quality backlinks. Plus, by hosting an event, you can build links that your competitors can't easily replicate. 
However, you must plan and execute your events carefully to build successful connections. By carefully selecting events to host and sponsor, you can build links, promote your brand, company message, and values, and become an authority within your industry. 
Got questions? Ping me on Twitter.