Now that the debt ceiling debate appears to have been resolved, we could see more risk-taking among investors. That's a good thing for smaller stocks, like the ones we buy for our portfolio. Below I take a closer look at what's going on this week in the S&P 500 (SPY) and how this impacts our next move. Read on for more….
(Please enjoy this updated version of my weekly commentary originally published June 1st in the POWR Stocks Under $10 newsletter).
The debt ceiling deal has passed the House and looks set to pass the Senate. That's been marginally good for stocks, with the S&P 500 (SPY) up about 3% over the last week.
There are still plenty of concerns for the economy, but it looks like the debt ceiling won't be one of them.
It's not really a surprise that the US avoided a default (the consequences of which could have been catastrophic).
The real surprise is that it didn't come down to the very last minute for Washington to get a deal done. Attention will now shift back to the Fed and the fight against inflation.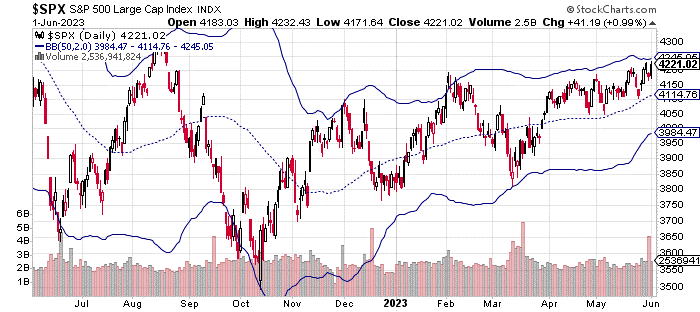 You can see in the chart above, the SPX (S&P 500 index) is near the top of its two standard deviation range.
That doesn't necessarily imply it's going to pull back, but mean reversion is a real thing with stocks, so there could be some selling pressure in the near future – albeit short-lived, most likely.
With the debt ceiling issues mostly out of the way, the jobs report tomorrow will be front and center for many investors.
The job market remains strong, which is both good and bad. It's good because people have jobs (obviously). It's bad because it makes it more likely that the Fed will continue raising rates to fight inflation.
The Fed doesn't appear to be in a rush to raise rates at this stage, though. There's currently an 80% chance of a rate hike pause at the June FOMC meeting (according to the futures market).
However, there's over a 50% chance the Fed hikes rate at the July meeting.
The Fed is attempting to achieve a soft landing. That is, they want to combat inflation (sending it lower) without torpedoing the economy.
I'm not sure it's possible, although it has been achieved in the past. We'll have to wait and see if they can capture that magic this time around.
Volatility, as seen in the VIX chart below, wavered during heading into the final days of the debt ceiling debate.
However, you can see where the VIX is now approaching 15. Below 15 is generally considered a low volatility regime for the market.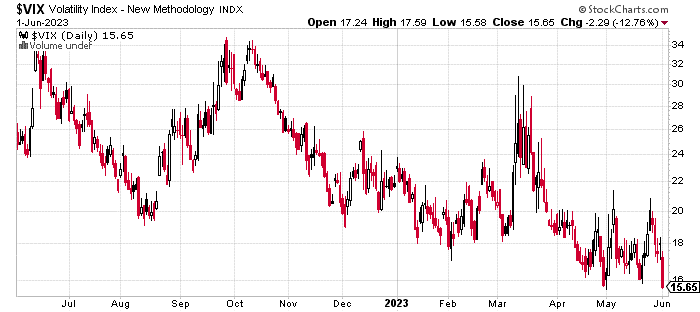 It's not unusual for market volatility to soften as we move into the summer vacation months.
However, it's a bit different this year with at least one interest rate hike expected over the summer period.
Despite the Fed doing a reasonable job of telegraphing their moves, further rate hikes could introduce a measure of volatility into stocks in the coming weeks.
Ultimately though, we may be approaching a period where investors are willing to take more risks on stocks.
Lower volatility typically means investors will take more chances on small stocks and value names. That certainly implies good things for us, which is the area we tend to operate in.
What To Do Next?
If you'd like to see more top stocks under $10, then you should check out our free special report:
3 Stocks to DOUBLE This Year
What gives these stocks the right stuff to become big winners, even in this challeging stock market?
First, because they are all low priced companies with the most upside potential in today's volatile markets.
But even more important, is that they are all top Buy rated stocks according to our coveted POWR Ratings system and they excel in key areas of growth, sentiment and momentum.
Click below now to see these 3 exciting stocks which could double or more in the year ahead.
3 Stocks to DOUBLE This Year
All the Best!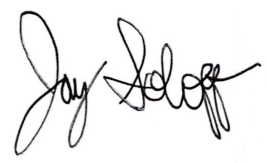 Jay Soloff
Chief Growth Strategist, StockNews
Editor, POWR Stocks Under $10 Newsletter
---
SPY shares closed at $427.92 on Friday, up $6.10 (+1.45%). Year-to-date, SPY has gained 12.32%, versus a % rise in the benchmark S&P 500 index during the same period.
---
About the Author: Jay Soloff

Jay is the lead Options Portfolio Manager at Investors Alley. He is the editor of Options Floor Trader PRO, an investment advisory bringing you professional options trading strategies. Jay was formerly a professional options market maker on the floor of the CBOE and has been trading options for over two decades.
More…
The post Moving on From the Debt Ceiling… appeared first on StockNews.com